London 1911 : celebrating the imperial  Susan Finding, MIMMOC, University of Poitiers
Article published in  « Londres: capitale internationale,
multiculurelle et olympique »,  Observatoire de la société britannique, 11, décembre 2011, sous la direction de Timothy Whitton.
Abstract
Unlike many rival capital cities (Paris, Berlin, Washington D.C.), London combined functions  as the seat of government, major seaport, industrial and commercial centre. London authorities sought to control and improve the living and working conditions within their boundaries. Unlike its rivals however, London was seen to be lacking in monuments and urban layout suitable to its calling.  The local authorities in London sought to remedy the planning side but celebration in stone and pageantry were ensured by official displays and semi-official entertainment heavily underpinned with imperial designs.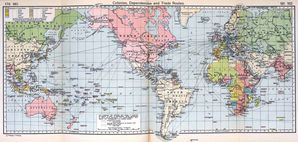 British Colonies, Dependencies & Trade Routes 1911
RESUME
C'est au mois de juillet 2005 que le CIO décide d'attribuer les Jeux Olympiques à la ville de Londres, vingt-quatre heures avant qu'une série d'attentats n'ébranle les certitudes multiculturalistes des Londoniens. Malgré le traumatisme subi, Londres sort la tête haute de cet épisode tragique, portée par sa volonté de défendre sa diversité autant que son statut de ville résolument internationale voire « globale ». Ce numéro explore l'évolution de la capitale britannique, non seulement sur les traces de son passé impérial, mais également en fonction de la manière dont elle s'accomode de sa place au cœur de l'échiquier financier mondial. La distribution et la gestion de son espace urbain sont également des enjeux majeurs dans la trajectoire que Londres cherche à se forger afin de rester dans le peloton de tête des capitales mondiales.
SOMMAIRE
Timothy Whitton
Forewords
Susan Finding
London 1911: celebrating the imperial
Carine Berbéri
Londres: une ville plus favorable à l'euro que les autres villes du Royaume-Uni ?
Hervé Marchal & Jean-Marc Stébé
Exister ou disparaître dans le jeu économique de la globalisation : un défi pour Londres et Paris
Ian Gordon
London Capital of Boom and Bust?
Martine Drozdz
Marges convoitées: lecture paysagère et géographique de l'extension du quartier d'affaires de la City à Londres.
Manuel Appert
Les nouvelles tours de Londres comme marqueurs des mutations d'une métropole globale
Timothy Whitton
Over to you Boris: the defeat of Ken Livingstone in 2008
Nancy Holman & Andrew Thornley
The reversal of strategic planning in London: the Boris effect with a focus on sustainability.
Nassera Zmihi
Londres 2012, un objectif olympien :zéro sans-abri.
Jeremy Tranmer
London: a capital of protest politics
Corinne Nativel
Mobilisations urbaines et espaces de résistance aux Jeux Olympiques de Londres et de Vancouver
12 euros (prix au numéro, frais de port compris), libellé à l'ordre de l'Agent comptable de l'Université de Toulon, à l'adresse ci-dessous
Gilles Leydier
Directeur de la publication
Revue « L'Observatoire de la société britannique »
UFR Lettres & Sciences Humaines
Université du Sud Toulon-Var
83957 La Garde cédex